A History in the Business
As the son of a lobster fisherman, Richard Harding learned all he needed to know about lobsters through his father, who fished the waters of Frenchman's bay from the 1930's to the 1960's.
Upon returning home from service during the Korean War, Richard married Joyce Ashe and started a full-service gas station in Ellsworth. In 1970, Dick and Joyce also decided to try their hand in the restaurant business. They bought some land and a small take-out stand in Trenton, Maine and started what would eventually become the Gateway Lobster Pound. For about the next half a decade, Dick managed the gas station while Joyce ran the take-out stand. In 1974, Joyce and Dick got rid of the small stand and built Gateway Lobster Pound, a full-service restaurant. Mainly due to the oil crisis of 1973, coupled with the declining popularity of full-service gas stations, Dick eventually sold the gas station and decided to join his wife at Gateway.
In 1983, Joyce and Dick bought Lunt's Lobster Pound, which founded in 1930, is the oldest Lobster Pound in Trenton. From that point onward Joyce provided full-service dining at Gateway, while Dick supplied lobsters to go right across the street.
Gateway and Lunt's Combine
In 2007, the Hancock County/Bar Harbor Airport acquired Gateway's land in order to maintain a safer launch and landing zone. With the money they made from the sale, Joyce and Dick combined the two businesses into the Gateway/Lunt's Lobster Pound that stands today. Since 2007, we at Gateway/Lunt's have been growing and expanding to better serve our customers, including our new lobster tank which holds up to 1,800 Pounds of lobster
New owners, Gregory and Patricia Harding.
Gregory, is the son of former owners, Dick and Joyce Harding.
Keeping the family tradition of fresh, locally purchased lobster, clams, scallops, and crabmeat.
There are now three generations of family working at Gateway/Lunt's, and we enjoy every second of it. Growing up, all four of Joyce and Dick's children worked at Gateway, and even though now they all have their own careers, they still help out whenever they can (and we even have their spouses working too). Now five out of six grandchildren work here as well (the youngest grandchild is still just a tad too young to work, however he does make a pretty mean salad!). Every Sunday night is family night, where only members of Joyce and Dick's family are allowed to work, so come to Gateway/Lunt's – we look forward to meeting you!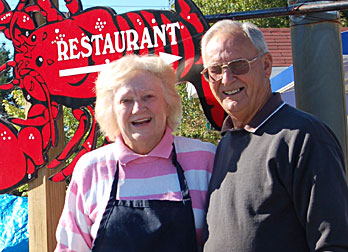 Joyce and Dick Harding
BECKY BUYERS-BASSO PHOTOS